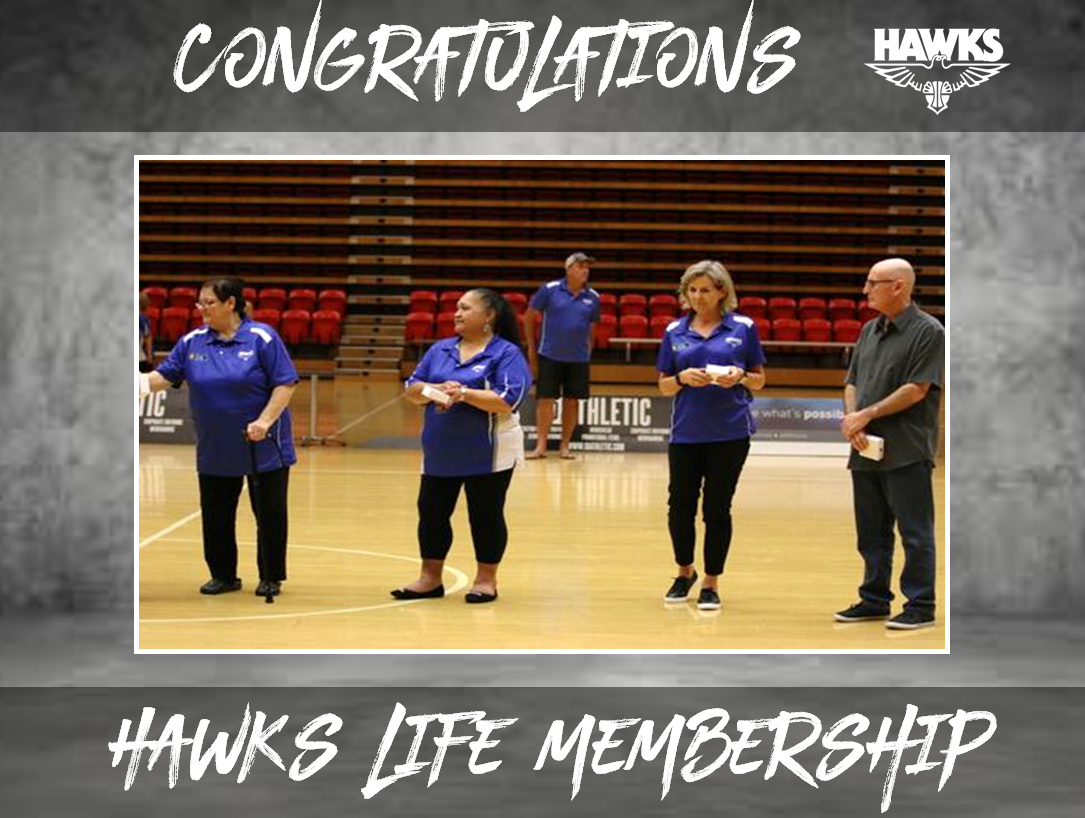 Hawks Life Memberships Awarded
Last night we honoured four special people with life membership of the Perry Lakes Hawks  Our president Karl Hombergen commented " It  is a great club, because we have great people".
The depth and breadth of their contribution and commitment to this club over a number of years is significant and major reason for the continuing success of our club.
We congratulate our newest life members: Marion Keighley, Sharon Spinner, Jane Lowther and Shane Perret.
Marion Keighley
Completed 40 years on the score bench as part of Perry Lakes Hawks & our feeder clubs
Score benched for Perry Lakes since the inception of the SBL
Score benched at the Sydney Olympics (along with several other Perry Lakes representatives).
Awarded the Gold Medal game at the Sydney Olympics (shotclock)
Become a leading shot clock operator in Western Australia, often providing her services for Boomer and Opal games when played in WA.
Score benched in WNBL from 1991 to 2000
Score benched in NBL from 1991 to 2016
Score benched at the world cup for wheel chair basketball in Sydney
Been active in recruiting score bench personnel from our representative program and bringing them through to SBL level
Sharon Spinner
Was on the Board from 2003 to 2007
Helped found the Claremont/Cottesloe PCYC basketball club
Refereed since the early days at Perry Lakes Stadium and continues to referee in our junior program today indeed we have parents with kids in the program now who remember Shazza reffing when they were kids.
Provides referee coaching to our young referees in our junior program
Helped in the development of many SBL referees
Score bench for Perry Lakes since the inception of the SBL
Score bench at Sydney Para Olympics & World Cup Wheel chair basketball
Score bench at WNBL 1991 to 2016/17
Score bench at NBL 1992 to 2015/16
Recognised by Basketball WA as 2014 score table official of the year.
Jane Lowther
Served on the Board from February 2005 to September 2016,
WSBL Lady Hawks team manager from 2009 to present, and
Involved in sponsorship and game night with our sponsors from 2005-2009 at the old stadium including catering for them on game night.
Jane has contributed to our Club willingly and always with a smile on her face.
Shane Perret
Has been a WABL coach at our club every year since 2003
Has coached men and women's teams and in some years two teams.
Has been more than happy to accept any coaching role assigned
Has been a positive influence on many a young athlete passing through our club.

Posted on Saturday 16th March, 2019