Heritage Round-Lady Hawks Past Player Tanya Kelly
As we celebrate Heritage Round, we interviewed Lady Hawks legend Tanya Kelly (affectionately known as TK).  Tanya holds the record for the most number of games played in the SBL by a Hawks player with 336 games under her belt , captained the Hawks from 2006-2011 and won 5 SBL Championships with the Hawks in 2001, 2002, 2003, 2007 and 2008.
When did you start playing and what made you get interested in Basketball?
I started playing basketball when I was 10. My brother played and I thought it looked like fun.
How old were you when you started playing SBL?
I was 14 when I played my first SBL game in 1996 for Willetton Tigers. I moved to Perry Lakes in 1999 and played the rest of my career for the Hawks.
What were your SBL career highlights?
Making the All-Star Team and touring to Shanghai in 1999
Playing in 12 SBL Grand Finals (9 with the Hawks)
Winning 6 SBL Championships (5 with the Hawks 2001,2002, 2003, 2007, 2008)
Winning the League MVP in 2006
Captaining the Lady Hawks 2006-2011 (6 years)
Playing 400 games
Making the SBL Team of the Century
What is your fondest memory playing for the Hawks?
There was no better feeling than playing on court one of the old Perry Lakes Basketball stadium. With so much history and an exciting atmosphere during a grand final game with hundreds of people, friends and family, watching on in the grand stand, it brings back so many wonderful memories of happy times and success we had as a club.
Who was your most influential coach whilst at the Hawks?
Rick Morcom. He welcomed me to the club in 1999 and we experienced so much success. He always believed in me as a player and a captain.
What advice or tips do you have for our current Lady Hawks who are starting the SBL journey?
Never give up and give it your all. It took me 8 years to achieve my dream of playing WNBL. If you have a passion for it, make it happen. It might take lots of hard work, dedication and sacrifices but it will all be worth it in the end when you achieve your goals.
TK #4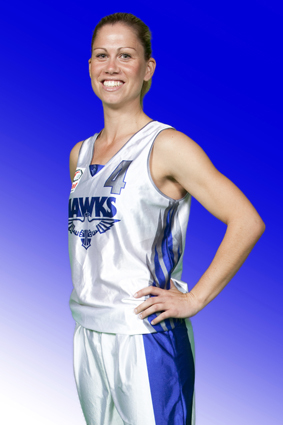 Posted on Wednesday 26th June, 2019