Referees are an integral part of the game of Basketball.  Becoming a referee is a challenging and rewarding career. The PLHBA fully supports the development of our  referees. Many of our current SBL referees started as junior referees at our Hawks Domestic Competition and some have also been selected to referee at the Southern Cross Challenge and at  National Championships.
New Referees
Welcome to Perry Lakes Hawks Referees, one of the biggest referee programs in Western Australia. We have a very well defined education pathway designed to help you get the most out of refereeing, and progress to the next level. Together with our team of Referee Coaches and Mentors, we hope to give you as much assistance as possible to be the best referee you can be. Minimum age to referee is 12 years old.
Our competition runs on Friday evenings and all day Saturdays. We recommend new referees come down on Friday evening and Saturday morning as these are the best games for your education.
We run all our communications out of Team App -PLH Referees
If you are interested in becoming a referee at Perry Lakes Hawks, please email Ben & Katie : referees@hawksbasketball.com.au, and they will be able to help you get started!
Current Referees
At Hawks we are committed to help you get better as a referee. There are a range of ways, in addition to the team of Referee Coaches and Mentors we have at Hawks, to help you get better. Once you have held an Association Beginner Referee Accreditation for 12 months and are 15 years old, you can sit the Level 1 Referee Course. More information can be found here.
If you have any questions, please email Ben & Katie :referees@hawksbasketball.com.au.
Upcoming Referee Courses
For upcoming referee courses and information from BWA please click here
For Regular Information and Updates
Please like our Facebook page for regular information and updates: Hawks Referees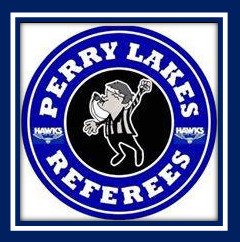 Referee Resources
Click here for information and FAQ's about becoming a Referee from Basketball Australia
Click here for Education Resources from Basketball Australia
Click here for the Pathway of Referees in Australia
Click here for FIBA Referee Resources and Manuals
Click here for an overview of referee signal Refs Signals