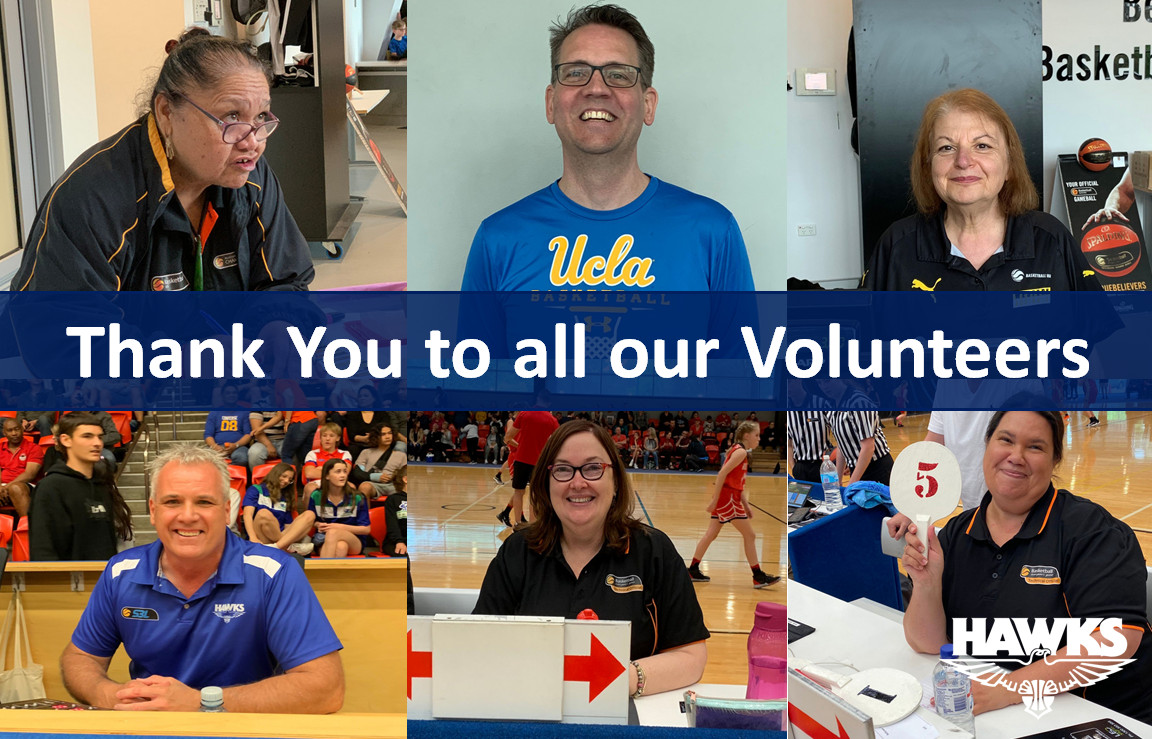 Hawks thank their Volunteers & Supporters
The Perry Lakes Hawks would like to take this opportunity to thank all our volunteers and supporters for their time and effort over 2020.
In a year that saw many states unable to play sport, Western Australia was very lucky to not only play basketball, but to have the West Coast Classic Competition for our SBL and D League squad and the WABL competition go ahead for all our WABL players. We were also able to run a domestic competition. This would not have been possible without our fantastic Hawks Staff, our many volunteers and all our Hawks Family.
Behind the scenes there are many amazing people working to make sure our association runs like clockwork and affords our players every opportunity available.  Many of these people go unseen and volunteer countless hours for the sport of basketball and the Hawks.
We thank all our players and their families for attending trials, training and games.
We thank all the Coaches and Managers for giving up their time and expertise.
We thank all the referee coordinators, competition coordinators, referees, score bench, statisticians, videographers, photographers, floor wipers, court side announcers, social media team, ticket sellers and game night staff.
We thank the physiotherapists and Strength and Conditioning coaches who work with our West Coast Classic squads.
We thank our domestic clubs for their continuing support and our supporters who come to games whether it be WCC, WABL or domestic.
Thanks to Karl Hombergen our President and all the members of the Hawks Board who work tirelessly behind the scenes planning and strategising our associations future.
Thanks to Annette Nobensi our WABL director who had a huge job getting WABL up and running once the green light was given.
A big thank you also to everyone at Basketball WA for working so hard to get these competitions up in very trying times.
Thankyou to our sponsors for their support over the season .
and the biggest thankyou of all… to Jenny Purser… Jenny is the heart and soul of the Hawks and makes it all happen! Thank you Jenny for the hours you do above and beyond and for taking care of our Hawks Family.
Our Hawks Family really pulled together in this unprecedented year.
We look forward to the State Champs coming up and the opportunities coming to us in an exciting 2021.
Hawks as One!!

Posted on Friday 6th November, 2020