IMPORTANT HAWKS WABL 2019 TRIAL INFORMATION
The selection/tryout process for our 2019 Hawks WABL teams remains the same as 2018.
1st Phase of our Hawks WABL tryouts was the 2018 State Championships Trials and Tournament.
2nd Phase is invite only to athletes who made one of our 2018 State Champ Teams, a Hawks WABL Team in 2018 and those who registered online for WABL 2019 Invite Only in OCTOBER/NOVEMBER 2018.
We wish to advise that these invites will be sent to the supplied email addresses by the 11th January.  Players who receive this email and would like to trial for a Hawks 2019 WABL team need to register online.  More Information regarding the Thursday 31st January Trial will be supplied in the email, including registration link, times etc.
If you did not receive an email invite:
If you were part of 1 or 2 above and were expecting an email invite, please email Jenny at the Hawks office – jenny@hawksbasketball.com.au  asap ………(before the 15th Jan)
NOTE: This is ONLY for those who REGISTERED to trial but have yet to receive their email with information.
Please supply the following information
Name of Athlete
Date of Birth
Address
Phone number:
Previous Basketball
Domestic Club:
WABL Club:
Upon receiving this information, we will assess if we can offer an invite to our Hawks trials.  As you can understand we have large numbers trialling for our teams (approximately 380 athletes) and we are limited to the number of teams we are able to nominate for the WABL competition.
Hawks Selection
At the trials, coaches will select teams and these teams will be posted on the Perry Lakes Hawks WEBSITE – www.hawksbasketball.com.au.
We ask that you are upfront with Coaches & Hawks personnel if you play another sport which may interfere with training and/ or games, or if you have an injury and are unable to trial on the 31st January.
Please notify the Hawks office – jenny@hawksbasketball.com.au
We look forward to the upcoming WABL season and success for our Hawks.
What is WABL?
The Western Australian Basketball League (WABL) is WA's Premier Junior Basketball Competition catering for players in the following age groups: U12, U14, U16, U18, U20 (Men only) and Open Age (Division 1)
U12, U14, U16 & U18'S will all be graded at the WABL Grading Tournament
Sat 23rd / Sun 24th February & Sat 2nd /Sun 3rd March – U12 & U16 age groups
Sat 9th /Sun 10th March & Sat 16th/Sun 17th March – U14 & U18 age groups
WABL Games are played on Sundays over an 18-week home and away season where every team plays each other twice, plus three weeks of finals.
The 2019 WABL season commences 28th April with finals finishing at the end of September.
The WABL is currently comprised of 13 Basketball Associations from both the metropolitan and country regions extending from Joondalup to Southwest (Bunbury).
If you have any more questions on WABL you may find some of the answers in our WABL Handbook 2018 an updated one coming soon.
https://www.hawksbasketball.com.au/wabl-handbook/
WABL Fees for 2019
Coming soon
Uniforms
Playing Gear:  All players are required to wear Hawks WABL shorts and a Hawks Warm-up Shirt for WABL games – playing singlets are supplied by the manager each game.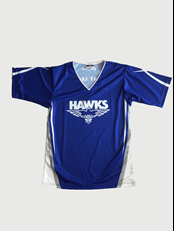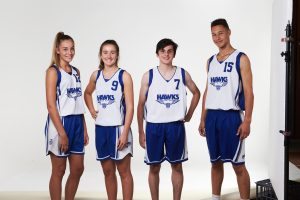 Training Gear: Reversible training singlets are compulsory for training – Black training shorts (no pockets) or Hawks shorts (not your game day ones) should be worn for training.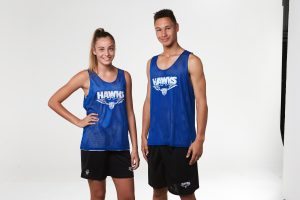 Mouthguards:  are compulsory for WABL