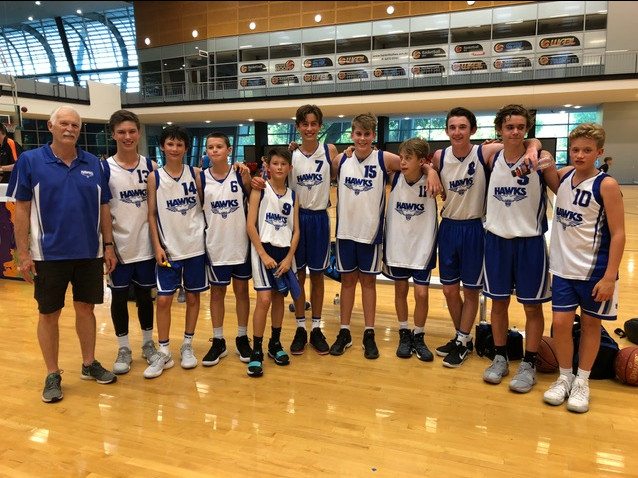 State Champs Wrap Week 3
Over the weekend we saw the last of our Hawks teams compete in the 2017 State Champs. It was a very warm weekend at Warwick and the Bendat Basketball Centre but that didn't stop our 9 teams from putting on a great show of basketball.
Both of our U11 Girls teams– some girls had never played at this level previously –came out with a 2-2 record. These girls represent the youngest of our Hawks players and will benefit from the training leading up to the carnival and competing at this level over the weekend.
We look forward to seeing them all back in 2018 for WABL.
We had seven teams nominated in the U15 Competitions – 3 Girls and 4 Boys. All were extremely competitive, with our U15-3M Blue team making it through to the Grand final only losing to Kalamunda by 1 point.
Our U15W Hawks 1 team won their 4 qualifying fixtures but lost to the eventual Champions – Willetton Tigers in the semis.  Same result for our U15M Hawks 1 team who went down by 1 point to Willetton in the semis.
Our 15-2 Hawks 2 boys team also went through the qualifying rounds with a 4-0 record only to lose to the eventual Champions in Eastern Suns in the semis. Both of our U15-2 Hawks White and Hawks Blue girls teams had a 3-1 record with the Blue team making it through to the semis but came up short against Willetton Tigers.
We had two boys teams in the U15-3 division – Hawks White & Hawks Blue – Hawks Blue had a 3 wins and a draw record and the Blue team 4 wins.  The white team lost in the semis and the blue team made it through to the Grand Final but were beaten by 1 point.
These results show Hawks have a great base to work with for WABL 2018.
Our thanks to our coaches in Georgia, Annie, Lisa, Keely, BC, Neb, Adam & Graeme for their hard work in preparing these teams for State Champs. We also would like to thank our managers who looked after the teams over the hot weekend – Deanna; Siobhan, Meg, Richard, Juliette, Kris; Sam; Jen & Amanda.
Have a great break all and we will see you on February 1st 2018, when we kick off WABL trials.
Posted on Monday 11th December, 2017