Deanna Black celebrates her first Mother's Day and shares her thoughts
2020 was a big year in the Black family with Deanna (Hawks NBL1 West Women's Head Coach) and Stephen ( former SBL Men's Head Coach for Willetton) welcomed their first child, a bouncing baby boy Hudson.
As this weekend's round of @nbl1_west games are Women's Round and we will be raising awareness and funds for @breastcancernetworkaus (BCNA) and celebrating Mother's Day, we thought this would be a great opportunity to get some insight from Deanna about her new role as a mother as she celebrates her first Mother's Day as a mum.
How would you sum up your first 6 months of being a mother?
The first six months of being a mother has been the most amazing time of my life. It has been a huge adjustment but I have loved every second. I feel so lucky to have such a healthy, beautiful and happy little boy.  The journey so far (and I am sure it will continue to be), is the hardest yet most rewarding of my life. It's crazy doing the most important thing in your world with no experience and learning as you go – there is no plan or manual. Fortunately, however, my sister and mum have been amazing supports. I have asked so many questions and learned so much from them, they are my Google! We spend a lot of time Face Timing my family and Hudson will even smile and engage with them now, which is very special. We are also very fortunate to have the support of Stephen's family here in Perth, they absolutely love Huddo. Time is flying and every day it seems like he is growing, learning new things and developing his own little personality. I don't want him to grow up too quickly, he is the best. The first six weeks were definitely the most challenging. You spend so much time preparing for the birth, when in actual fact you need to prepare for life after. I remember walking into the house and having the most overwhelming feeling that this beautiful little baby is all ours and now we are responsible for him for the rest of our lives. It was both daunting and amazing….  The feeding journey was really difficult, mum guilt is real and baby brain is actually a thing, although nothing compares to the love I feel as a mum, the cuddles, the smiles and experiencing life everyday with Hudson.
How do you and Stephen work around NBL1 West and your work & coaching commitments?
I am very lucky that I have such a supportive husband who encourages me to do what I love. Stephen looks after Hudson on training nights and will be in charge on game nights. It has been a work in progress to get the timing of feeds, bath and sleep right and get to trainings on time, but we are in a good routine. I am also fortunate to have such supportive assistant coaches and understanding players. Having this kind of support around me makes it a lot easier to balance being a mum and coach. I remember the first night I was leaving for training, I had tears and was blubbering "I can't leave, I am meant to be home looking after our baby!" and Stephen was trying to calm me down, saying "I've got this" and basically pushed me out of the door. As the girls love to remind me, I apologised to them as I was late to training and let them know I couldn't leave the house until I got a smile from Hudson. As time has gone on, it has become easier.
You have the Willetton vs Hawks clash coming up next weekend , who will Hudson be cheering for?
Hawks of course!!!! He even has a little jersey that he can't wait to wear to games. But he loves his Uncle Drew and will be cheering loudly for him too.
Hudson is a favourite when he is at training with the Lady Hawks- can you tell us a bit about that?

It's so amazing having a child grow up around a team. There is so much love and support. The girls absolutely love him and you will even catch Blair making faces at him trying to get him to smile. He always has big smiles for the girls and loves all of the cuddles that he gets. During pre-season, Hudson would come to Saturday mornings trainings. I would have to breastfeed him whilst the girls were warming up and doing their fitness, then he would play on the ground and watch training, or be cuddled/ vomit on Teish and Kerry, then go to sleep for the last hour of practice. Kerry has been a great support for me, offering help, guidance and encouragement as I navigate life as a mother and coach. When Hudson was big enough, I put him in the baby carrier facing forward.  This was great in theory, but as I was coaching, I soon realised the girls were way more interested in Hudson and making faces at him, than what I was saying! Hudson also comes with me to do individuals with the girls, he loves laying on the side of the court cheering the girls on – he already just wants the ball, although he is good at arms up and fast feet, so could be a defender (unlike his parents). I love that Hudson gets to grow up around the Hawks family, it takes a village to help raise amazing humans and both Stephen and I value all of the love and support we are given by everyone at the Hawks.
Tell us a bit about your mum and any insights now that you are a mum yourself…

My mum is amazing! She was spot on in saying "you will understand when you are a mum". That sentence rings so true now, I never really got that until Huddo was born. He will always be my little boy. My mum has taught me so many things, most importantly the amazing bond a child and their mother can have. I speak to my mum every day and know that her love is unconditional, she will always be there for me and challenge me to be the best person and mother I can be. My mum gave up so much for us and especially for me to follow my basketball dreams. When I first started playing juniors for Melbourne Tigers in U/16 she would drive me to Melbourne twice a week from Port Fairy. It was a 4 and a half hour trip, (9 hours return). We would train at 8am on Sunday mornings, so mum would be driving me at 3:30am to Melbourne for a 2 hour training. When we moved to Castlemaine, I was U/18's at Melbourne Tigers and also started training with the WNBL team, so she was driving me to Melbourne, 1 and a half hours away, (3 hours return), 5 times a week. For this I will be forever grateful, the commitment and sacrifice is beyond comprehension – I am so lucky. It was through this, so many opportunities opened up for me and I was able to follow my dream all over the world, thanks to my mum. I look to both my mum and sister for guidance on my journey as a mum. Their love and support continue to help me grow as the best mum I can be for Hudson. It is hard that they are so far away, but thank goodness for Face Time. I am extremely lucky to be surrounded by such amazing, strong women (both family and friends), who have taught me so much. The most important thing I have learnt is that doing the best job you can do, is good enough. (This is hard when you are a perfectionist). I love that I can share my journey with my team, the highs and the lows and I hope that I can be a strong female role model for them by demonstrating that even when being a mum is the number one priority, you can still continue to pursue your passions. It's just about balance and support.
A special message…
Stephen and I are so grateful for our beautiful boy and always talk about how lucky we are. We also know there are so many people out there that would love to be parents who can't. That's why it's not just important to celebrate the mum's out there but all women. Whilst I love that we celebrate women's round, I do hope that one day we don't need a round to be recognised, but it becomes the norm in our society.
Happy mother's and women's day to all the beautiful women out there. I love that we get to celebrate by playing the game we love!! Let's go out and play like girls!!!
#HawksAs1
Game Tonight Hawks vs Redbacks at Belmont Oasis Leisure Centre
Men 5pm    Women 7pm
Please support this worthy cause by wearing pink!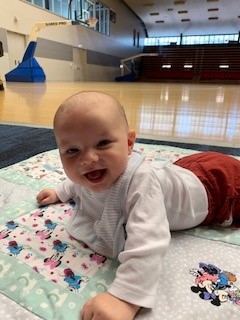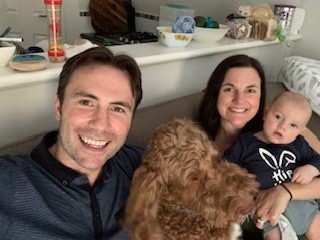 Posted on Saturday 8th May, 2021